Mobile App? - We Got 'Em!
You can sign up a new member and use their credit card to pay their dues, using the Legion Mobil App! Very cool!
The American Legion
Mobile App
This app offers a succinct description of the Legion's forms of advocacy, opportunities to join, donate and find nearby posts.
The American Legion Claims Coach
The American Legion Claims Coach provides step-by-step guidance to help you and your service officer through the process of filing for VA benefits.
Sons of The American Legion Mobile App
Founded in 1932, Sons of The American Legion exists to honor the service and sacrifice of Legionnaires.
American Legion Baseball Mobile App
Follow your favorite American Legion baseball teams as they compete to reach the American Legion Baseball World Series.
---

Today Department Commander, Gary Leach shared what Legionnaires in his district are doing to help victims of our California wildfires.
"Volunteers in the 6th District are collecting donations of bottled water, non-perishable food items, pet food, clothing, etc. We will be traveling to the American Legion Post in Lower Lake tomorrow with a group of volunteers to deliver the donated items. The Legion Post there is serving as a relief point and supposedly has fire victims living in the parking lot! Bob Perryman has informed me he anticipates enough donations to fill three pick-up trucks with trailers."
A wonderful message to share about Legionnaires doing their good work. If you have a similar story of how Legionnaires, during these difficult times, are serving their community (with a good picture or two - if possible wearing their Legion cap), send your story to webteam@calegion.org We will do our best to share your good story.
The American Legion has a program to help our veterans during difficult times like we are experiencing in California.
"The National Emergency Fund (NEF), created in response to Hurricane Hugo in 1989, has provided more than $8 million in direct financial assistance to American Legion Family members and posts. By providing this emergency funding, NEF has prevented damaged posts from closing and enabled American Legion Family members to recover from tragedy."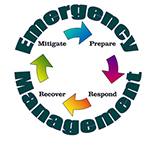 For more information on the this fund visit this web page NEF
If you are aware of a Legionnaire or veteran who
Our Department of California, Disaster and Emergency Services Commission has a few good resources that may come in handy during this fire season. Take a look.
---
Commander's Agenda
Legionnaires,
We have a new calendar on our Calendar page, it is the Commander's Agenda.
This is the calender where Department of California, Commander Gary Leach will keep us informed of his activity schedule. A very nice addition to our web site.
We will soon have the new appointments to Department Commissions posted on the Commissions page. We are in the process of verifying e-mail addresses and phone numbers before we share the information.
There is also in development a Training page that will be linked to the Resource page throught he drop down menu. This page will hold Legion training resources. This will include a variety of training videos, Legion publications and locally produced training resources.
---
---

Janet Wilson, National Executive Committeeman presenting
John Fazzone his Lifetime Achievement Award. Photo by John Velasquez.
John Fazzone
2016 Lifetime Achievement Award Recipient, Department of California
Mr. John Fazzone, is sometimes affectionately referred to as the "Godfather" of District 16. His many years of dedicated service to America and to The American Legion justified the selection of Comrade John Fazzone as the Department of California's 2016 Lifetime Achievement Award recipient.
Congratulations
Comrade John Fazzone,
a well-deserved honor!
During his 23 years' service in the United States Air Force as a security policeman this New York native, traveled throughout American and the world. John's many duty assignments took him to Germany, Alaska, Florida, New York, Korea, New York, Thailand and California.
Eventually John settled down in the Santa Maria/Orcutt community where he has often served as a leader in The American Legion during 47 years as member of Santa Maria's Cpl. Marshall N. Braden Post 56. This include John's dedicated service as Commander of Post 56, District 16 and Area 6. John is well known for his work as Adjutant of Area 6 for 17 years, District 16 Adjutant for 24 years and Adjutant of Post 56 for 35 years. John has also been active in American Legion Baseball and the Department of California Public Relations Commission.
When John Fazzone has blood tests done, his blood report comes back with a unique item listed: Patriot & Outstanding Legionnaire. The report just confirms what Legionnaires have known for many years.
For John Fazzone,
being a Patriot & Outstanding Legionnaire
is expected, it is in his blood!
---
Both the Department of California and the Sons of the American Legion have signed on in opposition to Prop 61. Please join us.
Legislation of interest to veterans that is currently being tracked:
---
Brochure Highlights Legion's Positions on Key Issues
July 5, 2016
As the 2016 presidential and congressional elections draw near, The American Legion has updated its "Our Pillars, Your Platform" brochure to highlight its positions on key election issues affecting veterans, servicemembers and voters nationwide.
A few of the Legion's stances on some of the most critical issues today include quality health care for veterans, veterans education and careers, illegal immigration, flag protection, a strong national defense, women-veteran specific care, veterans benefits, and health-care needs for veterans suffering from post-traumatic stress or traumatic brain injury.
Overall, "Our Pillars, Your Platform" speaks to what The American Legion was founded on nearly 100 years ago – its Four Pillars: Veterans Affairs & Rehabilitation, National Security, Americanism, and Children & Youth.
---
National commander aims to cut suicide rate to 'zero'
American Legion National Commander Dale Barnett released a statement today concerning veteran suicide rates in response to a comprehensive analysis released by the Department of Veterans Affairs (VA).
"The physical and mental injuries that many of our warriors endure are unique to our community, and we applaud VA for making this study a priority," said Barnett. "The American Legion will continue to work with the VA and our veterans through our Post Traumatic Stress Disorder and Traumatic Brain Injury Committee to reduce these tragedies. Like the VA, we aim to reduce the military veteran suicide rate to zero."
The fact sheet from the analysis shows finalized statistics from all 50 states of 55 million veteran records from 1979 to 2014. The analysis concluded that in 2014 an average of 20 veterans a day committed suicide and approximately 65 percent of all suicides in 2014 were ages 50 years or older.
If you, or someone you know is having trouble and may be thinking that suicide is an option, please call the VA's 24/7 suicide prevention hotline at 1-800-273-8255 and press 1. You may also chat online at www.veteranscrisisline.net, or send a text message to 838255.
---
Fisher House Foundation staff, Long Beach VA Healthcare System staff, Fisher House Southern California board members, and other Fisher House supporters, broke ground Oct. 7, 2015. Photo courtesy of Fisher House Southern California
Long Beach Fisher House:
A home away from home
by Michael Hjelmstad

In 2012, the VA Long Beach (Calif.) Healthcare System was identified as a facility in need of a Fisher House. Since then, The American Legion Family of Southern California has been a major contributor to an exceptional outpouring of support from the community of Long Beach.
The American Legion, the Long Beach Rotary, and the American Gold Star Mothers Inc. formed a group to help raise the money needed to build a Fisher House. Fisher House Southern California Inc. President and CEO Steve Kuykendall, a life member of Legion Post 496 in Long Beach, announced that the organization had not only reached, but significantly surpassed, its goal of $6 million to build a place where active-duty military and veteran's families can stay at no cost while a loved one is receiving treatment.
Long Beach VA Fisher House broke ground Oct. 6, 2015, and will open for families to stay in the fall of 2016. Long Beach VA serves more than 55,000 veterans and active-duty personnel, with nearly 20,000 from the Iraq or Afghanistan conflicts and more than 9 percent of those are women. Many specialty services also bring in patients from outside the local area.
Read the complete story, HERE.
---