CURRENT MEMBERSHIP REPORT
---

PEARL HARBOR WREATH DEDICATION
Wreaths adorn the USS Arizona Memorial on Joint Base Pearl Harbor-Hickam, Hawaii, Dec. 7, 2015, where a remembrance ceremony was held to honor survivors and those who lost their lives in the attacks on Pearl Harbor 74 years ago. U.S. Navy photo by Petty Officer 2nd Class Jeff Troutman
---

National Commander's California Itinerary
---
The Ways and Means Commission
The Department of California, Ways and Means Commission is responsible for developing plans, ideas, and promotions to secure needed funds to help operate The American Legion programs we conduct in the Department of California. For many years the Department of California, in addition to other campaigns, has conducted the following fund-raising campaigns:
When you support our fund-raising campaigns, (as we hope more of you will do) your donations help The American Legion succeed in serving more of our veterans. As you support our fund-raising campaigns, please ask your Legion friends to also participate. We do need your help to raise critical VA&R Program funds.
Thank you!
Respectfully,
Janice Somers
Chairman, Ways & Means Commission
Department of California
---
American Legion Invites High School Students
to Compete in Speech Contest
Our Oratorical Speech Contest is one of the most exciting youth programs in The American Legion! If your post does not currently conduct an Oratorical Speech Contest, please do. It will benefit your post, your community and most importantly our youth.
The main purpose of The American Legion High School Oratorical Scholarship Program is to develop a deeper knowledge and appreciation of the Constitution of the United States on the part of high school students. Other objectives of the contest include the development of leadership qualities, the ability to think and speak clearly and intelligently, and the preparation for acceptance of the duties and responsibilities, the rights and privileges of American citizenship
Legion posts will be holding preliminary contests which will lead up to the state finals.
Oratorical State Finals
State Capitol March 4, 2017
More information on the High School Oratorical Competition can be found in these documents:
Oratorical Competition
Policy Change Recording Speeches
The following information is from the Oratorical Rules on the National web site.
Television and radio
Live television and radio broadcasts are permitted in all contests, as well as filming, taping or other types of media for later showing, provided:
1. Lighting and other site conditions are the same for all contestants.

2. Filming or broadcasts in no way distract the contestants or interfere with the pre-announced scheduled time of the contest.

3. The normal speaking voice of the contestant is not interfered with or amplified within the auditorium.

4. The American Legion is in no way financially obligated without prior approval.
---
Legion Legislative Day
For those who are unfamiliar with this event, this explanation of the Legion Legislative Day was written by Pete Conaty, Department Legislative Advocate,
"The culmination of the Department's grass roots advocacy is the Annual Legislative Day at the State Capitol, which is the premier opportunity for Legionnaires to establish and maintain relationships with local legislators, key staff members, and policy consultants. These all day events feature speakers from the Legislature, the California Department of Veterans Affairs, and other state agencies that offer services to veterans, and key legislative staff and consultants. Legionnaires circulate through the Capitol and visit their local Senators and Assemblymembers, introduce themselves, and leave behind informational materials and talking points regarding American Legion and the Department's supported bills. This is a great opportunity to educate legislators and staff on issues important to veterans and to establish a working relationship which can sometimes evolve into a Legionnaire becoming the go-to person regarding veteran's issues."
---

---
Name and Emblem Use and Protection Guide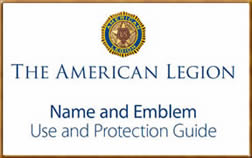 Name and Emblem Use and Protection Guide
How do we properly use The American Legion emblem?
The American Legion "Name and Emblem Use and Protection Guide" give us the answers.
"The purpose of this manual is to provide a set of guidelines on how to use the marks of The American Legion for all who have a need to use them – our members, local post officers, department officers, and suppliers of benefits and vendors of products for The American Legion and our members."
Subsidiaries
All member of our American Legion Family must remain vigilante in the proper use and protection of The American Legion emblem. This includes our subsidiaries, such as the Sons of the American Legion and American Legion Riders. The following rules relating to subsidiaries are taken directly from the "Name and Emblem Use and Protection Guide" (pages 18-19). All our Legion leaders should understand these rules.
"Moreover, because of the requirements of the trademark law, such subsidiary corporations, trusts or foundations – including Sons of The American Legion and the American Legion Riders – must meet the following requirements:

1. All officers, directors, trustees, etc. must be named by the department (usually nominated by the department commander and confirmed by the Department Executive Committee).

2. All vacancies in the subsidiary corporation must be filled by the department.

3. The subsidiary corporation must report to the department, no less frequently than monthly. These reports must include financial reports.

4. The department treasurer or finance officer must be a signatory on all accounts.

5. All amendments to articles of incorporation or by-laws must be approved by the department. (If the current text has not been approved by the department, it too must be so approved.)

These same rules apply to subsidiaries of posts, squadrons and Riders chapters. Of course, all references to departments also reference posts in the appropriate situation.

Remember: the subsidiary does NOT tell the parent what to do.

Post subsidiaries are subject to the same rules. Merely replace the word "department" with "post." This is also true of American Legion Auxiliary units. Merely replace the word "post" with the word "unit." Departments of the American Legion Auxiliary use language identical to that used by The American Legion."
Department Guidance for ALR Programs 
---
National Commander's Pin Incentive Program
American Legion National Commander Charles E. Schmidt will award his national commander pin to any Legion member who obtains three new members into the Legion. A new member is any eligible person joining for the 2017 membership year who was not a member of The American Legion during the 2016 membership year.

Each member listed must be eligible for membership in The American Legion. Forward names of SAL members or Auxiliary members to your detachment or unit for use in their respective incentive programs.
To maintain the integrity of the national commander's pin incentive program, only one pin will be awarded per individual.
Upon receipt, national membership staff will confirm the names and mail the pin directly to the person who earned it. Commander Schmidt's incentive program will end June 30, 2017, or when supplies are exhausted.
National Commander's Incentive Pin New Member Form (PDF) »
National Commander's Incentive Certificate Form (PDF)
100% AMERICAN LEGION
FAMILY RIBBON
100% American Legion Family Ribbons will be awarded to any post family that achieves 100% membership by the 2017 100% target date. A Legion Family is defined as a post and/or any combination of Auxiliary unit or SAL squadron. 
(Each must achieve 100% to qualify)
100% American Legion Family Ribbon Application

---
Our Legislative Commission under the guidance of Pete Conaty, Legislative Advocate and Don Harper, Commission Chairman have been very busy supporting legislation for California veterans.
There are fifteen (15) veteran related bills that the The American Legion, Department of California sponsored, supported, or watched that are currently on the Governor's desk. For more information visit: calegion.org
---
MyLegion.org Update
New Reports in Report Server
MyLegion.org is a free, secure internet site that provides access to member data and more. It is the 'Members Only' Section of Legion.Org.
Using myLegion.org Post Adjutants can take care of a number of important administrative functions for your post, including:
View Post Member Records
Update Records
Track Online Renewals
Generate Post Rosters & Reports
Submit CPR Data
Find Local Post 1000 Members
Global Member Look Up
New features have been added to myLegion.org, they include:
Letters - HQ Transfer Invitations
This is a new feature that generates a pre-written letter that can be sent to Post 1000 members (members currently assigned to our state headquarters post, aka Post 1000) inviting them to transfer into your post. The invitation letter has a signature line for members to approve their transfer into your post.
Project - Stay Active by Area
Americans are on the move, and Legionnaires are no exception. National Headquarters' Project Stay Active helps local posts maintain contact with members who move into your area. When moving into your area, the post should contact and welcome the member to the area. This is an ideal time to offer assistance and to invite the member to visit your post.
Listing - Find Members in My Area
"Find Members in My Area" is a report designed to assist with identifying and contacting members who belong to Post 1000 or are expired members. Using the pull down menus, select the zip code(s), last paid year(s), and available posts to View Report.

Note: this new method of finding Post 1000 members in your area uses zip codes, not miles from your post. You can enter multiple zip codes using a comma to separate them. The results of your search can now be downloaded in a number of file formats including CSV, PDF, Excel and Word.
---

Photo by Lucas Carter/The American Legion