---
Click on the Image Above to Read More
---
---
National commander leads veterans
walk in California
By Michael Hjelmstad

American Legion National Commander Charles E. Schmidt led members of the Department of California Legion family on a chilly, yet enthusiastic, second annual Walk for Veterans in Sacramento, Calif., Dec. 16.
The walk kicked off with a wreath laying ceremony at the California State Vietnam Veterans War Memorial, located on the grounds of the Capitol Park. Department leadership and Legion family members from across the state walked with the national commander around the park to engage the community and raise awareness about the Legion and issues facing America's veterans.
Read the complete story HERE
---
---
Name and Emblem Use and Protection Guide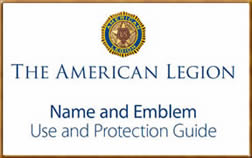 Name and Emblem Use and Protection Guide
How do we properly use The American Legion emblem?
The American Legion "Name and Emblem Use and Protection Guide" give us the answers.
"The purpose of this manual is to provide a set of guidelines on how to use the marks of The American Legion for all who have a need to use them – our members, local post officers, department officers, and suppliers of benefits and vendors of products for The American Legion and our members."
Subsidiaries
All member of our American Legion Family must remain vigilante in the proper use and protection of The American Legion emblem. This includes our subsidiaries, such as the Sons of the American Legion and American Legion Riders. The following rules relating to subsidiaries are taken directly from the "Name and Emblem Use and Protection Guide" (pages 18-19). All our Legion leaders should understand these rules.
"Moreover, because of the requirements of the trademark law, such subsidiary corporations, trusts or foundations – including Sons of The American Legion and the American Legion Riders – must meet the following requirements:

1. All officers, directors, trustees, etc. must be named by the department (usually nominated by the department commander and confirmed by the Department Executive Committee).

2. All vacancies in the subsidiary corporation must be filled by the department.

3. The subsidiary corporation must report to the department, no less frequently than monthly. These reports must include financial reports.

4. The department treasurer or finance officer must be a signatory on all accounts.

5. All amendments to articles of incorporation or by-laws must be approved by the department. (If the current text has not been approved by the department, it too must be so approved.)

These same rules apply to subsidiaries of posts, squadrons and Riders chapters. Of course, all references to departments also reference posts in the appropriate situation.

Remember: the subsidiary does NOT tell the parent what to do.

Post subsidiaries are subject to the same rules. Merely replace the word "department" with "post." This is also true of American Legion Auxiliary units. Merely replace the word "post" with the word "unit." Departments of the American Legion Auxiliary use language identical to that used by The American Legion."
Department Guidance for ALR Programs 
---

100% AMERICAN LEGION
FAMILY RIBBON
100% American Legion Family Ribbons will be awarded to any post family that achieves 100% membership by the 2017 100% target date. A Legion Family is defined as a post and/or any combination of Auxiliary unit or SAL squadron. 
(Each must achieve 100% to qualify)